Taradake onsen
The bath of 11 types (16 bathtubs). You can look at "scene of the Ariake Sea" from there.
Spring quality | Neutral hypotonicity cold mineral spring
Effect | Stiffness of the shoulders, Neuralgia, Lumbago
Scene of the Ariake Sea. Grand Unzen Mt. Fugen.
Outdoor hot spring
There is an open-air bath on the top (the seventh floor) of a building. It is an open structure here. You could overlook the Ariake Sea. Probably you look at Unzen, and could look at it and relax a star at night.
Ariake-kai no yu
"Ariake-kai no yu" is located in another building. Open-air bath, Large bathroom -- sleeping -- stability hot water and a mist sauna.
Chartered open-air bath
Koishimaru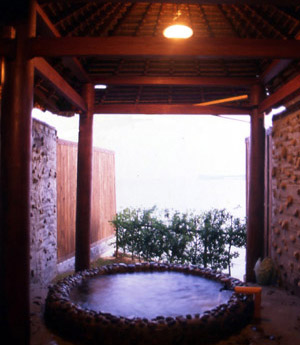 "Gazebo" is a roof made from straw. We imported this from Bali Island.
Hinoki bath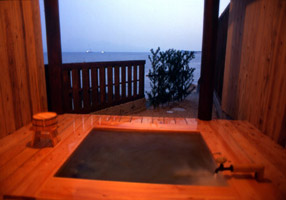 Hinoki bath is the most popular by six kinds of baths.
Jacuzzi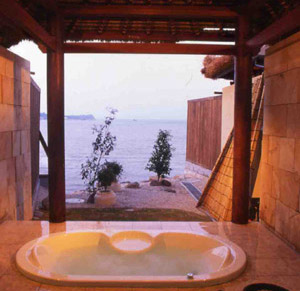 It is a beach resort of Bali Island completely. Since it can illuminate colorfully, it is popular to take a bath at night.
Nagaishi bath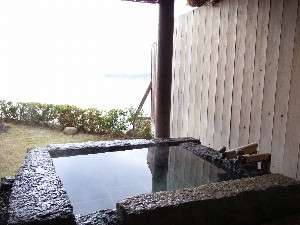 This is made in piles in the larger rock. You will relieve tiredness at cold Ishi and hot spring.
Taraiwa bath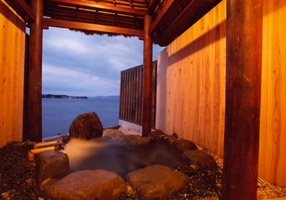 Stone bath also gives the atmosphere of Bali Island. This is a just a little bit different interest.
Asian Hinoki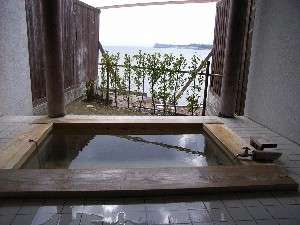 Almost no level difference is in a bathtub and a washing place. The design of this bath is also beautiful.